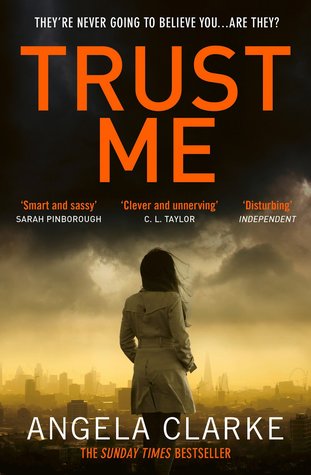 Trust Me by Angela Clarke is a police procedural with one heck of a high concept – What if you witness a murder livestreamed, but then the stream disappears without a trace and no one believes you?
I was immediately drawn in by this premise, and was especially excited to discover that this is actually book #3 in what Angela Clarke refers to as 'The Social Media Murders'. If you don't already know, my day-job (boo! We don't like to talk about that here!) is very entrenched in the world of social media. Between that job, handling the social media for Reading Parties and writing this blog and YouTube channel, I pretty much live and breathe social media. But as much as there are pros (I'd still be working in a pub if it wasn't for social media) I'm also very aware of how dangerous it can be, and so this premise intrigued me no end.
You don't need to have read the previous books in the series to read this one. It stands alone extemely well. We follow three characters – Kate (the woman who witnessed the murder) and detectives Freddie and Nas.
I really enjoyed this novel. Aside from the aformentioned cool concept, I particularly loved Freddie's voice, and if you've read my review of The Martian by Andy Wier you'll know I'm a sucker for a captivating voice. I actually listened to this on audiobook and it was read by Imogen Wilde, who was just a joy to listen to and really brought Freddie's voice to life. 
It kept me listening the whole way through as all the little details unfurled. I felt the ending was a little predictable but overall it was a quick and enjoyable read… well, listen.