Becca Day's debut novel, The Girl Beyond The Gate, was an instant No. 1 Amazon Bestseller and is available in paperback, eBook and audiobook.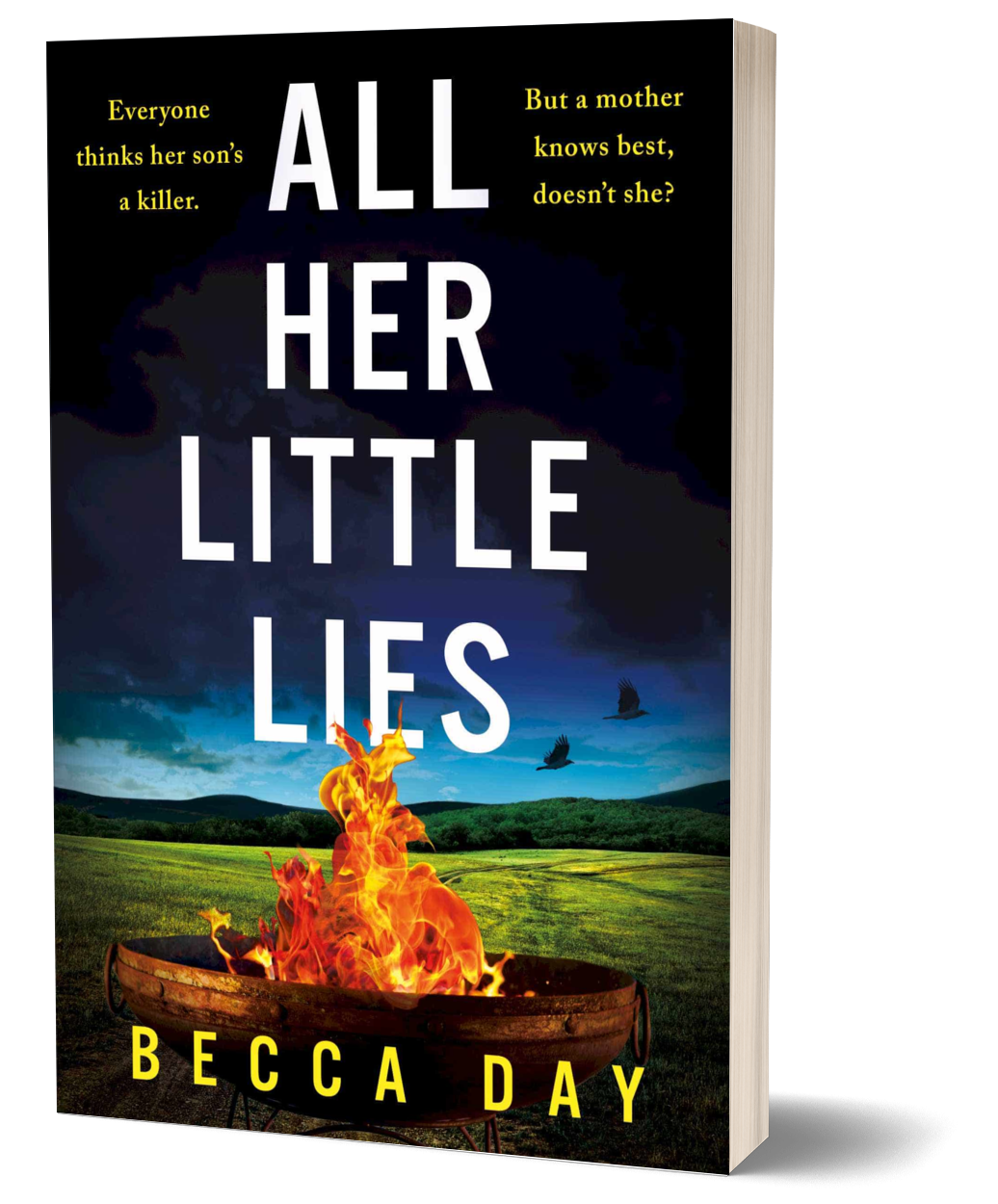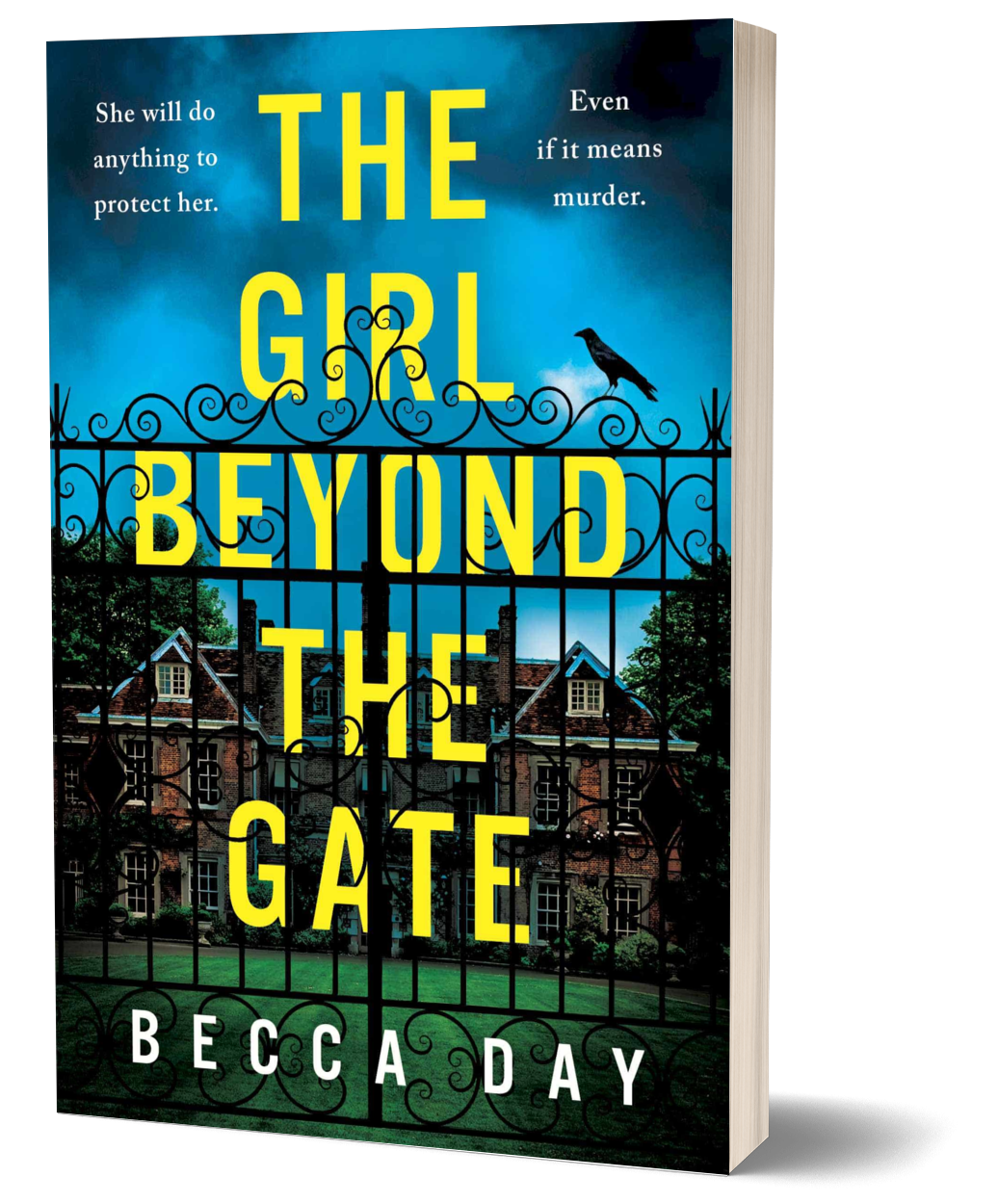 Everyone's convinced her son is a killer, but Alex Forrester knows him best, doesn't she?
Cynthia and Alex have always been like sisters. Living and working for years on Cynthia's mother's sprawling farm, they've raised their families together. It was the perfect life until the fateful night that Alex finds Hannah, one of Cynthia's eighteen-year-old twins, inexplicably murdered in her own home.
Soon Alex's life is spiralling out of control as she questions everything she knows and everyone she trusted. And when local detective, Stefani Warner starts investigating Hannah's murder, one prime suspect quickly rises to the fore: Daniel, Alex's nineteen-year-old son.
As Alex fights to protect him, she starts to uncover disturbing truths. Friendship, family bonds, even her own marriage are not what she thought, and threats seems to come from every direction, both invisible and way too close to home…
The gripping new psychological thriller from the bestselling author of The Girl Beyond the Gate.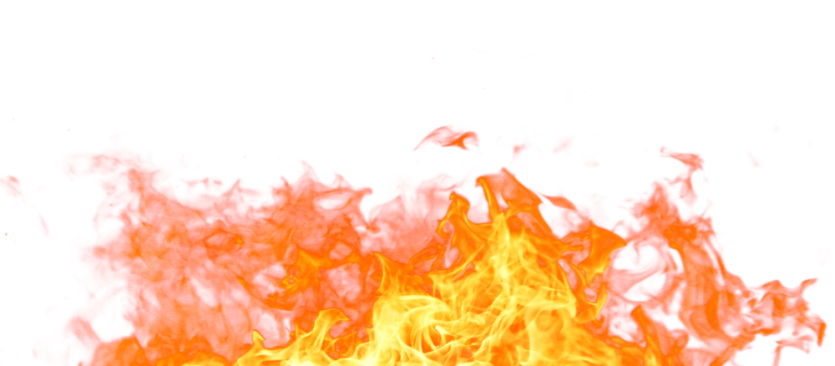 Becca Day lives in the middle of the woods in Surrey with her husband, daughter and cocker spaniel. She studied acting at Guildford College and went on to start her own Murder Mystery theatre troup. It was this move that inspired her love of crime fiction, and when she sold the company she threw herself head first into crime writing. Her short fiction has won several prizes and The Girl Beyond The Gate is her first full-length novel. Aside from writing, she is also an avid reader and runs Reading Parties with fellow author William Shaw.
REVIEWS
THE GIRL BEYOND THE GATE
"Tantalisingly toxic. A fantastic debut with an OMG ending!"
– Lauren North, author of Safe At Home
"The Girl Beyond The Gate is the type of book that demands your attention, the type of book you can't stop thinking about when you dare to do something else, like sleep. The book opens with a murder and every chapter from there on out gets us closer and closer to what happened. A glamorous gated community makes a stellar setting for a thriller and heightened the sense of tension. The characters were well-drawn and interesting and had far more lurking beneath the surface than their shiny exteriors portrayed. Also, I was CONVINCED I had guessed the ending but like so many before me I was wrong."
– S.V. Leonard, author of The Islanders
"Holy sh*t that ending!!! My mouth literally dropped. It's very rare that an ending blows me away like that. It was one of those endings that I had to tell my bf about because I was so blown away, even though he had no idea wtf I was talking about 😂
It's been weeks and I'm still thinking about it. This book is captivating from the first page and I loved it. I can't believe it's the authors debut thriller because it's written so brilliantly. Such a great read!!!!"
– @bookscoffeemorebooks on Instagram
"This is definitely one of these "un-put-downable" books, the first I've read like this in 2022. "The Girl Beyond The Gate" by Becca Day shows that life in a gated community isn't as idyllic as it seems. People there are hiding from their former lives, gossip about neighbours and more deaths than should happen on a quiet housing estate. Definitely don't want to live there! The actual story follows Jodie who is starting anew, and her neighbours Norah and Lacey, and their encounters – some welcome and some unwelcome. Fast-paced and a must-read for 2022."
– NetGalley Reviewer
"A phenomenal debut novel. The Girl Beyond the Gate By Becca Day This was a dark and twisted book that I couldn't stop reading!  Gritty and compulsive, this thought-provoking thriller contains several interesting twist. I never saw coming. The characters you honestly have no idea which way this story is turning. And that made it so much fun to me. The characters…. Holy shit! Like Becca Day outdid herself here with these intriguing, interesting people. I was totally immersed after the very first chapter. And this story never let up. Y'all don't miss this amazing novel."
– NetGalley Reviewer
"This book is an absolutely fantastic debut. I have devoured this giving anyone who attempted to disturb me a death stare. I have loved everything about this wonderful book. Interesting characters and setting. Drama and suspense throughout. This book has converted me as a fan of this author and I cannot wait to read more."
– NetGalley Reviewer
"Very twisty, definitely didn't see the ending coming. I enjoyed this quick read and you will too. I think the characters could have. been drawn out more as they were interesting to me I think more of Jodie's past life could have been foreshadowed and explained. If you like twisty themes, creepy neighborhoods, British community and secret pasts then #TheGirlBeyondTheGate is for you!"
– NetGalley Reviewer
6th March, 2022
HOW I GOT MY AGENT + TIPS FOR GETTING A LITERARY AGENT
24th September, 2021
EMBLA BAGS TWO CHILLING THRILLERS FROM DEBUT AUTHOR BECCA DAY
10th May, 2021
HOW I TRACK AGENT QUERIES
10th August, 2021
MOTHERHOOD IN PSYCHOLOGICAL SUSPENSE
9th February, 2021
DEALING WITH WRITER'S BURNOUT
26th October 2022 | eBook Publication Day for All Her Little Lies
– Join Becca Day to celebrate the eBook publication of her second psychological thriller novel All Her Little Lies
28th October 2022 | UK Crime Book Club FB Live Interview
– Join Becca Day as she chats to Samantha Brownley in the UK Crime Book Club Facebook Group | MORE INFO
2nd November 2022 | Squad Pod Twitter Chat
Becca will be chatting all things All Her Little Lies on Squad Pod's book club pick of the month Twitter chat | MORE INFO
PRESS CONTACT & EVENTS
Keep in touch by using the contact form below or join Becca at one of her up coming events. If you'd like to get in touch with her Publicity Manager, please use the details below.
PUBLICITY
Jennifer Porter
Marketing Head, Embla, Bonnier Books UK
jennifer.porter@bonnierbooks.co.uk
RIGHTS
If you have a query regarding film, TV or translation rights please contact Becca's agent:
Emily Glenister
Assosiate Agent, DHH Literary Agency
enquiries@dhhliteraryagency.com
For any other comments or messages, send them using the form below.
BECCA
Hi, I'm Becca, an author and graphic designer living in the middle of the woods in Surrey. I also run Reading Parties with fellow author William Shaw. My debut novel THE GIRL BEYOND THE GATE was published in March 2022 by Embla Books, and my second novel ALL HER LITTLE LIES is coming out on 26th October 2022. I'll be sharing all of my news here about my books.